Winter is making its way to western Brittany, and with it, the Roscoff Onion PDO season. To introduce you to this emblematic product of our region, we met with Yannis Moal, a vegetable grower in Saint-Pol-de-Léon. Along with his brother Lionnel, he's been farming for over thirty years and the Roscoff onion holds no mysteries for him. In this article, we'll explore every aspect of its characteristics, cultivation and flavour.
Since 1995, Yannis Moal has been farming his family's land together with his brother Lionnel. Their 80-hectare farm produces around ten vegetable crops, including potatoes, cabbage, salad greens, shallots, onions, Cardinal artichokes, red kuri squash and mini-vegetables (carrots, Romanesco and cabbage). This year, six hectares were reserved for the production of just over 200 tonnes of Roscoff Onion PDO.
Origins and characteristics of the Roscoff Onion 
The first Roscoff Onion seeds are said to have been brought from Portugal in 1647 by Frère Cyril, a Capuchin monk. The plants adapted successfully to the local soil and climate. Over time, local growers adopted the allium and made it an emblem of the Roscoff area.
The Roscoff Onion has an attractive round or slightly flattened shape. It stands out among other onion species for the pink colour of its outer skin and inner layers, as well as for its flavour and good storage quality. It is mild, sweet and juicy, and can be eaten raw or cooked.
PDO: a guarantee of quality and traceability
The Roscoff Onion obtained its CDO (Controlled Designation of Origin) label in 2009 and went on to earn its PDO (Protected Designation of Origin) label in 2013. PDO specifications define a product's geographical area and its methods of cultivation, harvest, storage and packaging.
In order to ensure product traceability and adherence to specifications, Roscoff Onion PDO growers must make various records available to inspection bodies, including the origin of the seed, growing methods, storage and packaging. Growers also send statements to the Syndicat de Défense (the group that oversees the PDO) based on a model approved by the National Institute of Origin and Quality (INAO). Lastly, PDO onion quality is verified by organoleptic committees which check the quality of the bulbs and their adherence to type before they're sold. These tests consist of visual and tactile examinations and, if necessary, a tasting.
Roscoff Onion PDO production area
Production area of Roscoff Onion PDO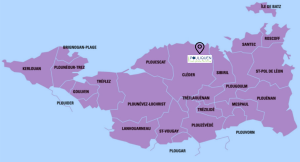 Roscoff Onion PDO cultivation methods
Roscoff Onions PDO are planted out in three ways. The most common method is by planting seed blocks, which guarantees good crop density and produces onions of the correct sizes for plaiting. This method is used to grow around 84% of the Roscoff Onion PDO crop. Seed blocks are prepared indoors by companies in the geographical area beginning in January, and are planted out in early April.
Around 15% of the crop is grown by direct sowing. Seeds are sown in March. Onions produced in this way ripen between 15 to 20 days later than those grown by other methods.
Onion sets are obtained by sowing onion seed at high density. "As soon as the bulbs reach thumbnail size, they're lifted to be dried and planted again next year. The advantage of this method is that the set is able to start growing quickly." Yannis Moal, producer.
This rapid growth means that sets can be planted later in the season, making it possible for growers to spread their workload over several weeks in spring. Despite this, only 1% of Roscoff Onions are grown from sets.
Production methods for Roscoff PDO onions
Seeds / Seed blocks / Sets

A two-step harvest
The first step in harvesting Roscoff Onions PDO is lifting, which takes place from mid-July to August 25th, the date set by PDO specifications. In this procedure, a blade is passed under the onion in order to break the roots. This important step is intended to stop the roots from absorbing water when the onion has reached the desired stage of ripeness. This improves the onion's storage quality and prevents loss of flavour. Onions are then left in the field to dry for several days before being harvested by hand or machine. Machine harvesting must be done carefully, as Roscoff Onions are fragile.
Drying, storage and packaging Roscoff Onions PDO
Roscoff Onions PDO can be stored until April of the year following their harvest. They can be kept outdoors in plastic pallet boxes sheltered from the rain, indoors in silos or ventilated plastic pallet boxes, or in cold storage. Refrigerating the onions makes it possible to extend their storage period until the end of April.
Before being brought to market, Roscoff Onions PDO must be completely dry. Growers check bulbs individually by hand to ensure their dryness, for example before they are plaited. They're checked a second time by our operations team in Cléder before being packaged. No damaged Roscoff Onion PDO can be sold.
At Pouliquen, everyone has their own favourite way of eating this exceptional onion: raw or cooked, on its own or in combination with other ingredients. As for Yannis Moal, he enjoys them simply pan-fried. Just imagine their slightly sweet fragrance and you'll want to see Roscoff Onions PDO on the menu today!
Our offer includes conventional and organic onions packaged in nets, plaits, single-layer trays, Girsac bags and boxes. You'll find all the details on conventionally-grown as well as organic Roscoff Onions PDO on our website.
Photo credits:

Pouliquen
Chambres d'Agriculture de Bretagne – antenne de Saint Pol de Léon
Syndicat de l'AOP Oignon de Roscoff
Maison des Johnnies et de l'Oignon de Roscoff
Organisation Bretonne de Sélection
ÉCLO